Raywell Hall named 'Best Lodge Escape destination in North of England' by holiday giant Hoseasons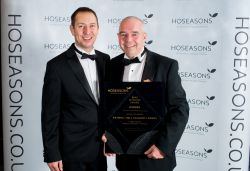 Raywell Hall Country Lodge Park has been hailed as 'one of Britain's most popular and successful lodge parks' after picking up a top tourism award from domestic holiday giants Hoseasons.
Raywell was crowned the 'Best Lodge Escape destination in the North of England' at Hoseasons' 10th annual Gala Awards evening, an event showcasing the very best of the self-catering specialist's lodge and holiday parks across the UK.
The awards are broken down into eight UK regions and presented to Hoseasons destinations that have achieved the highest scores in customer satisfaction surveys.
Given Hoseasons offers more than 23,000 places to stay in coastal and countryside settings throughout Britain and Europe, the recognition delighted Raywell director Philip Mackay, who was at the awards evening in Brighton to receive the award from Hoseasons' Product and Portfolio Director, Mark Warnes.
"We're absolutely delighted to win this award," said Phil.
"Every member of the Raywell Hall Country Lodge Park team is dedicated to making sure our customers have a great holiday experience, so it's fantastic to know their hard work is appreciated.
"We love what we do and we're looking forward to welcoming even more guests for what we hope will be another great year ahead."
The award comes just weeks after Hoseasons announced it had enjoyed its fifth record summer in a row with bookings up 5 per cent across its entire UK portfolio.
"Winning this award means Raywell Hall Country Lodges is one of Britain's most popular and successful lodge holiday locations," said Simon Altham, managing director of Hoseasons.
"The standards set by this park are exactly what we have in mind when we talk about offering our customers a better place to stay, and we wish them all the best for another successful year in 2016."
The award comes after Raywell Hall was named one of the Top 10 UK Luxury Lodge Breaks by the Sunday Mirror this summer. It is part of the exclusive Autograph range of luxury breaks offered by Hoseasons, recognised for providing five-star accommodation and service.