What's On near Raywell Hall Country Lodge Park - September 2015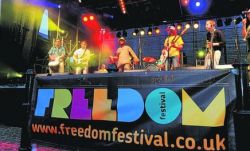 Staying with us during September? If so, here are a few local events we have picked out should you wish to enjoy a day out in East Yorkshire.
September 1-6, 12 & 13, 19 & 20 – MW Road Train Tours – Hull city centre, HU1 3RQ – The land train is operated and owned by Mally Welburn, a former fisherman and tour guide on the Arctic Corsair. Together with his dedicated team, he runs the train on 45 minute tours around the city centre and Old Town from Wednesday to Sunday and all week during school holidays. It operates at regular times throughout the day. Prices vary from £1.50 to £2.
September 2 & 3, 9 & 10, 16 & 17 - We're Mad for Moule at Fudge – Fudge, 93 Princes Avenue, Hull, HU5 3QP – Every Wednesday and Thursday in September, to celebrate the start of the mussel season, Fudge chefs will rock the mussel pot, dishing up moules three ways with hand cut pomme frites from £13 per person. Advanced Booking Required. E-mail info@fudgefood.com or call 01482 441019.
September 4-6 – Cottingham Folk Festival – Cottingham, HU16 4AU – Music from The Shires, Oysterband, Eliza Carthy & The Wayward Band, Toyah Willcox, Ward Thomas, Thea Gilmore, John Smith, 3 Daft Monkeys, Tony Wright (Terrorvision), Mark Morriss (The Bluetones), Emma Stevens, Rita Payne & Maz O'Connor. Visit www.cottinghamfolkfestival.co.uk for more information.
September 4-6 – Freedom Festival – Hull city centre, HU1 3NA - Freedom Festival celebrates Hull's unique contribution to the cause of freedom as the birthplace of anti-slavery pioneer William Wilberforce MP. Now entering its eighth year, Freedom Festival grew out of the bicentenary celebrations in Hull of the abolition of the slave trade in The British Empire, which was led by Wilberforce. A street festival to remember as Hull heads towards City of Culture 2017. Call 01482 300300 for more information.
September 5 & 6 – The Caravan Extravaganza – The Lawns, Cottingham, HU16 5SQ – The show features more than 130 new touring caravans and about 150 caravan holiday-homes, lodges and park homes from most of the major British manufacturers. The annual Caravan Extravaganza gives enthusiasts from all over the UK their first opportunity to see the new season's models. A large accessory shop is also set up within The Lawns Centre and there will be a small funfair for children, as well as refreshments. Visit http://www.lawnsandbeaulieushows.com%20for details.
September 5 & 6 – Cottingham Parks Lodge and Caravan Show – Cottingham Parks Golf & Leisure Club, Woodhill Way, Cottingham, HU16 5SW - More than 20 caravan manufacturers are exhibiting at the 2015 show, giving visitors the chance to be the first to preview their brand new 2016 models. Parking and admission is free. Visit http://cottinghamparkscaravanshow.co.uk/ for more information.
September 6 – Humber Bridge Farmers' Market – Humber Bridge viewing area car park, Ferriby Road, Hessle, HU13 0LN – The Humber Bridge Farmers' Market is a very popular event, held on the first Sunday in the month, except January. Whether you're looking to buy meats, fruit and vegetables from regional growers, or shop for a handmade gift made by a local crafts artist, you're sure to find something to suit your taste and budget. Parking is free and it runs from 9am to 1pm, but organisers advise you arrive early. Visit www.humberbridgeevents.co.uk for further details.
September 6 – Flower and vegetable show – Tickton, Beverley, HU17 9RZ - Beverley and District Chrysanthemum Society present their 67th Flower and Vegetable Show to include flowers, vegetables, cookery, fruit, photography and children's classes, as well as a cake stall and tombola. It is open from 12.30pm to 3.30pm and admission is free.
September 13 – The Hull Marathon – Runners will take on a flat and fast course through the streets of Hull and the East Riding. Points of interest along the route are East Park at 2.3 miles, Queen Victoria Square at 6.5 miles, the Humber Bridge at 13 miles and Hull Marina at 25 miles. Visit www.thehullmarathon.co.uk for more information.
September 16 - Beverley Races - Beverley Racecourse, HU17 8QZ – A full afternoon of horseracing action. Gates open at 12 noon, with the first race at 2.05pm and the last race at 5.20pm. Visit http://beverley-racecourse.co.uk/racing/season-calendar for further details.
September 19 & 20 – Driffield Country Fair – Driffield Showground, Kelleythorpe, Driffield, YO25 9DN, 9am-5pm – The fair follows on from the continued success of the Game and Country Fair in 2014 and offers two action-packed days of activities and attractions to please all ages and interests. The weekend is full of live entertainment, including falconry demonstrations, the Ferret World roadshow, Kirkbourne Spaniels, Little Alf the Shetland Pony and Hunsley Beacon Beagles, as well as the annual fun dog show. There is also a range of traditional countryside demonstrations, including pottery making, horse shoe making, horse logging and falconry. No booking required. For tickets prices, to book, or for more information, call Matt Bakes on 01377 257494 or e-mail matt@driffieldshow.co.uk
September 19-20 – BDO British Open Darts Championships – The Spa, Bridlington, YO15 3JH, 9am-7pm - The British Open provides the perfect darts weekend for players and supporters, with a full programme of competitive darts from Friday evening to Sunday. More than 600 competitors from all over Britain attend this darts championship and help cement Bridlington as the resort for UK darts. Admission costs £15 for a weekend ticket and £10 for a Saturday ticket. Call 01482 391668 or e-mail info@eyevents.co.uk for more information, or to book.
September 20 – Beachwatch Big Weekend – South Landing Local Nature Reserve, meet beside the cafe in the car park on South Sea Road, Flamborough, YO15 1AG, 11am- 1pm - Make a difference to protecting our coastal wildlife by helping Yorkshire Wildlife Trust with their annual beach clean as part of the Beachwatch Big Weekend. Call 01262 422103 for further details.
September 22 - Beverley Races - Beverley Racecourse, HU17 8QZ – A full afternoon of horseracing action. Gates open at 12 noon, with the first race at 2pm and the last race at 5.15pm. Visit http://beverley-racecourse.co.uk/racing/season-calendar for further details.
September 25-27 – Bridlington Weekend Rally Support for the Royal British Legion - The Spa, Bridlington, YO15 3JH - The last year of the commemoration Royal British Legion Weekend will take place this September, with a variety of entertainment open to members of the public. Friday's evening entertainment is a social evening, with an emphasis on dancing, which will include performances from the New Squadronaires dance band. Guests are invited to join in and dress in period costume from the wartime years with a chance to win a prize. Tickets, which cost £12, or £20 for the weekend, can be purchased through The Spa Bridlington website: www.thespabridlington.com
September 27 – Jerry Green Dog Rescue End of Summer Show - Jerry Green Dog, Bennetland Lane, Gilberdyke, HU15 2TN, 11.30am-4pm – A day full of dogs! The event includes a dog show, have-a-go agility and plenty of fun and games, all to raise money to continue to rescue and rehome of the centre's dogs. Call 01430 449112 for more information.