Raywell Hall Country Lodge Park reveals plans for expansion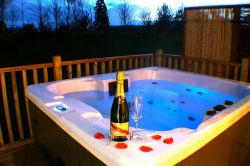 Raywell Hall Country Lodge park has revealed plans to further develop its offering after seeing a surge in demand for its short breaks on the back of an award-winning year in 2014.
It comes as the park has established a reputation for providing amongst the country's highest-quality lodge breaks, priding itself on its offering of peace and tranquillity in a stunning 29-acre countryside setting.
Director David Coates says the increased profile and recognition of Raywell's high standards over the past 12 months has brought a significant lift in advance holiday bookings, with many of the most popular periods of the year now close to full occupancy.
"We've come to a stage now where demand is out-stripping supply for us, and although that of course is a very pleasing position to have reached, we want to ensure we continue growing and improving the offering," said Mr Coates.
"We have added five new lodges to the park, and have plans to add a further four lodges to the site over the next 12 months.
"All additions have been based around customer feedback, and following conversations with the people at Hoseasons, who have seen the popularity of our breaks, and our potential to expand and attract more visitors to our park. They are confident that if we add more lodges still, people will come and we won't struggle to fill them.
"The recent new additions have included our first lodge with three bedrooms, which allows us to cater for families, whilst we have also added single bedroom lodges for the many couples who come here for a romantic break.
"Also, we've ensured that our existing lodges have all remained to the highest of standards, upgrading them to ensure we continue meeting the highest standard of the Autograph range with Hoseasons."
Raywell is one of just 28 lodge parks nationally promoted by leading holiday bookings firm Hoseasons as part of its prestigious Autograph Lodge Holidays collection.
To be included on the range, parks must go the extra mile to provide the extra touches to offer a truly memorable experience.
With lodges providing super-deluxe large open-plan living areas, bedrooms rivalling superior hotels and outdoor hot-tubs with stunning views across the countryside, Raywell is more than meeting expectations.
It has brought the park a five-star Quality in Tourism rating, a five-star award and Certificate of Excellence from review website Trip Advisor, and a Diamond Award from Hoseasons itself, based on the quality of feedback from customers.
Raywell capped off a great year in 2014 by being named winner of the Tourism and Hospitality category at the Hull Daily Mail Business Awards.
"It's great to be recognised for the role we are playing in attracting visitors to East Yorkshire," added Mr Coates.
"We've really been proactive in marketing ourselves over the past year, and that resulted in more than 10,000 visitors to our site. We know that we have a truly unique offering.
"It's great to see bookings on the rise. If you want to stay here between Christmas and New Year, you need to be looking at 2016 already."